Several HPF bro gathered June 14-17, 2007 at the Dartmouth Class of 1977 30th reunion. HPF Classmates in attendance included Dave Halpert, Mike Hanson, Dave Wright, Bob Leach, Steve McAllister and Allan Treffler. I hosted a barbeque for the HPFers at my house and a few other local alums came by including Jeff Reed, Bill Bender and Ted Moynihan. It was great to see some old friends who I haven't had an opportunity to see for many years! My daughter Caitlin, Dartmouth '10 and Mike Hanson's son Will, Class of 2009, also came by and seemed to enjoy hearing some of our old stories - I did hear a complaint from the younger set that we used to many 'code' words.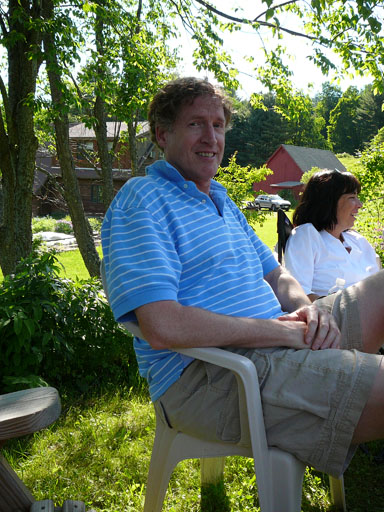 Steve McAllister
Ted Moynihan & Kate Leach
Dave Wright & Jeff Reed
Bob Leach
---
Dateline Hanover, NH, June 6, 2007 -- The Hanover High School Varsity Lacrosse Team, with head coach Jeff Reed '76, won the New Hampshire State Lacrosse Championship. Congrats to Jeff an his whole team!
---
In an amazing coincidence, my daughter Caitlin found herself on the same ski patrol shift with Make Hanson's son Will in early January and learned that both their dad's were HPF brothers together. Caitlin heard Will talking about his dad being in some 'foundation' fraternity and asked if he meant HPF - they then discovered they were both legacies! It got me to thinking about any other other bro that have children at Dartmouth now. I know of the following:
Caitlin Halpert '10 daughter of Dave 'Halps' Halpert '77
Will Hanson '09 son of Mike 'Snavely' Hanson '77
Chris Green '10 son of Steve 'Ratso' Green '76
Hazel Kent '09 daughter of Tom 'TK' Kent '72