Dartmouth Class of 1979 Newsletter
June 2010 Issue
HPF Column
His father was Tau Epsilon, his mother was a whore.
His birth was of a humble sort, upon a barroom floor.
The harlot held him gently, to her breast she drew him near.
But Harold winked, said thanks a lot, I'd rather have a beer.
So here's to Harold, dear old Harold,
Here's to Dartmouth's favorite son.
There's no finer 'bro on the whole damn Row,
Than Harold Parmington.
Sure, college is about growing up. It's about learning subject matter, and about learning how to learn. But it's also about the folks you share four (or more) years with, the friendships you begin, and the timeless bonds you establish.
Back in the 1970s and early 1980s, the Harold Parmington Foundation maintained its World Headquarters at 15 Webster Avenue – the last house on the right, between Alpha Chi and Aquinas House, across the street from President Kemeny's house. Established in the decade prior to our arrival in Hanover, HPF in Hanover reached its membership peak in the 1977-1981 timeframe. The undergraduate fraternity began a gradual membership decline, and after revival efforts with a name change and later a move to co-ed membership, eventually gave up its physical Hanover presence, selling the Webster Avenue property to the College, which now leases the house to the Epsilon Kappa Theta sorority (incidentally, the proceeds of the "sale" of the house to the College were used to establish the 15 Webster Avenue Award, an annual grant to a Dartmouth fraternity/sorority for a major community service project)
Among the '79s who called HPF home, literally or figuratively, were Vince Marriott, Steve Huber, Craig Enright, Matt Publicover, Bill Newell, Stephen Hemminger, Mike Durham, Jim Boldt, Dave Zakin, Don Castle, Rich Conn, Brendan Cameron, Steve Kovach, Rob Meadow, Bobby Greundel, Skip London, Sam Seymour, Bernie O'Neill, Ed Schiavoni, Bruce Mack, Allan Cunningham, Rich Pender and Gary Murphy.
During our Dartmouth years, the boys in those Columbia blue and gold jerseys made a splash at times, as intramural football champs, Hums champs, and the like. As well, HPF's theme parties like Harold's Casino Night, Harold's College Bowl, Harold's Roaring '20s Night, and, most notoriously, Harold's Sinking of the Titanic Night, were, for some, highlights of the social season.
But for the 'bro, the Foundation was mostly about building life-long friendships that persist through today and hopefully beyond.
Hardly a year goes by when one of Harold's sons isn't standing up as best man for another at a wedding, or in a church as godfather. The Foundation holds regular reunions, including last fall, hosted in Philly by Dan Sheedy '76, and this year in Maine, hosted by Dave Hunt '75. In 2000, Harold's Millennium Reunion, hosted outside Washington DC by Brad Ferris '77 and Rich Pender, drew scores of members from around the world. Among the '79s that made it were Greundel, Cunningham, Cameron, Pender, Enright, and Murphy.
The 2000 reunion was also the last time many of us many of us spent time with Brian Dale '80, HPF's president during our senior year. Brian died aboard American Airlines Flight 11 on September 11, 2001, and is sorely missed. Brother Chuck Jarrett '80 and his wife Stephanie made a recent donation to the College establishing the Brian P. Dale Batting Cages at Biondi Field. And last year, when President Wright established a memorial courtyard outside the Hop in memory of those Dartmouth Alumni lost on September 11, Harold's boys came from far and wide to be with Louanne Baily Dale and their wonderful children, Russell, Rachel and Jacob, for the dedication ceremony.

The September 11 dedication ceremony, on the same weekend as our 30th reunion. '79 treasurer Brendan
Cameron is fourth from right, and Rich Pender is off somewhere looking for his car keys.
The boys keep up with each other – reunions, weddings, births and, sadly, deaths, on a website maintained by Dave Halpert '77, husband of Audrey Mendoza Halpert '79 (www.thehalperts.com/hpf), where you'll find pictures, stories and memorials. Rich Conn, for instance, just back from a multi-year adventure in Russia, has started a new life adventure in NYC. He's also currently in the running to be CEO of the International Chess Federation – go to www.karpov2010.org to check it out.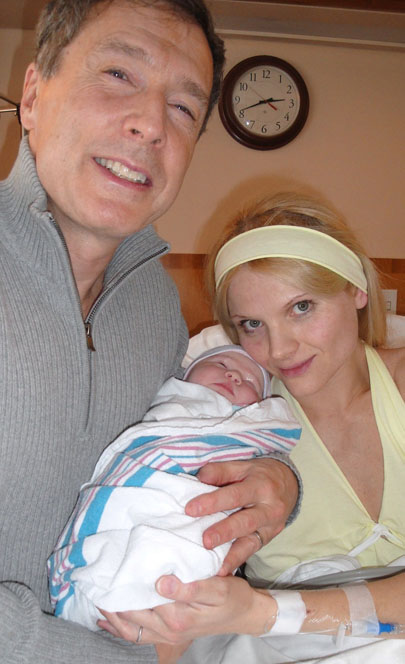 Rich, newborn Natalie Daniella & Julianna Conn
We also use it to mobilize the brotherhood - when Jim Bullion '78 was posted to Iraq, for instance, Harold's boys put together care packages filled with candy bars, cigars and "reading material" for Jim and his team.
We certainly don't presume that the ties of our brotherhood are necessarily any stronger or more long-lasting than others developed in Hanover in the late '70s, and we're sure others will follow in this space with equally warm stories of lifelong bonds begun, developed and nurtured during our years in Hanover and since. We're just thankful that for Harold's boys, those bonds remain as strong as ever.
An aside: many have asked for an answer to that long-held mystery – who exactly was Harold Parmington. After consultation with all remaining members of the brotherhood, we've agreed to reveal the truth – Harold Parmington was a screen-door salesman from

Ponca City

, Oklahoma, who, through his valor and heroism in the Great War, saved countless lives of Dartmouth Men. The Foundation was established by Bruce McLane '72 and Tom Kent '72, among others, to memorialize his legacy. While the house at 15 Webster Avenue is no longer World Headquarters, the Foundation endures in the hearts and minds of Harold's brothers and sons. And despite his years, Harold remains active in nurturing the fellowship – he can of course be "friended" today on Facebook.

Now Harold's gone, but not forgot, on Webster Avenue.
Down the Row, past Alpha Chi, across from Sigma Nu.
Where Harold's Brothers gathered round,
To toast the gold and blue,
To swear the oath of Parmington,
[unfortunately, only Brothers may know the oath]
So here's to Harold, dear old Harold,
Here's to Dartmouth's favorite son.
There's no finer 'bro on the whole damn Row,
Than Harold Parmington.
* From "The Ballad of Harold Parmington", by Willard Bradley Ferris '77, HPF's permanent Hums Master.