Audrey and I hosted a large gathering of Halpert and Mendoza siblings and their families for a Thanksgiving feast on November 22nd. Those attending included all three of my sisters - Mindy with her husband Jim and their almost 6 year old twins, Janet and her son Jason, and Barbara. From the Mendoza side we had Audrey's father Walter, her brother Dan with his wife Sam and daughter Alma, her brother Paul and his son Carson. Alex and his old college roommate Elliot Silverstein also joined us. Caitlin is still on her foreign study program in Spain and missed Thanksgiving for the first time and so I've posted a
gallery of pictures
.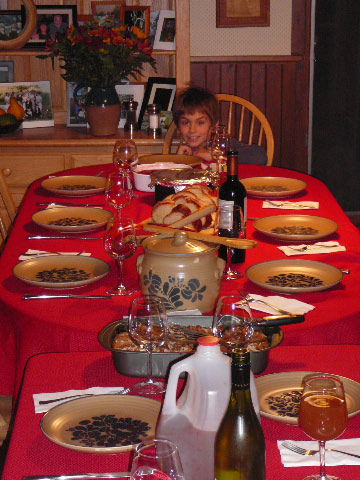 Carson
Jules, Carson and Jesse
---
Caitlin requested we post some
fall pictures
Audrey has recently taken since she missed the fall colors this year while she's in Spain.
---
On Oct. 13th, the Halpert family gathered in Methuen, Mass. to celebrate my sister Janet's 50th birthday. We all enjoyed a very nice luncheon. It was a rare occasion to get all my parents and all my siblings together at the same time!
Back row: Jason, Janet, June, Sid and Barbara
Front row: Jesse, Mindy, Jules, Audrey and Jacques
---
Only 4 days after we got back from Hawaii, Caitlin left again for her Foreign Study Program in Madrid, Spain. She will be there, living with a Spanish family, until late December. She is sending regular emails describing her experience and I have created a
web page
where you can follow what she's up to.
---

Audrey, Caitlin and returned recently after spending the first two weeks in September on a fantastic vacation to Portland, Oregon and then Hawaii! Got to take a cool raft trip down the White Salmon river just across the state line in Washington. The we spent a few days on Oahu at Kialua and then a great week at Poipu, Kauai. Some highlights included beautiful beaches, some snorkeling, incredible scenery, particularly as we cruised up the Na Pali coast and also in Waimea Canyon. I will publish some more pictures here when I have had a chance to finally sort through the 1500+ pictures the three of us took!

Hiking at Waimea Canyon
---
Audrey and I went to Hanover, NH on Memorial Day and were able to see an interesting speech by Senator Barack Obama. Caitlin came to hear him as well as well and there was a very large turnout.
---
Mindy, Jim and and the twins visited us in Vermont for a beautiful and relaxing Memorial day week-end.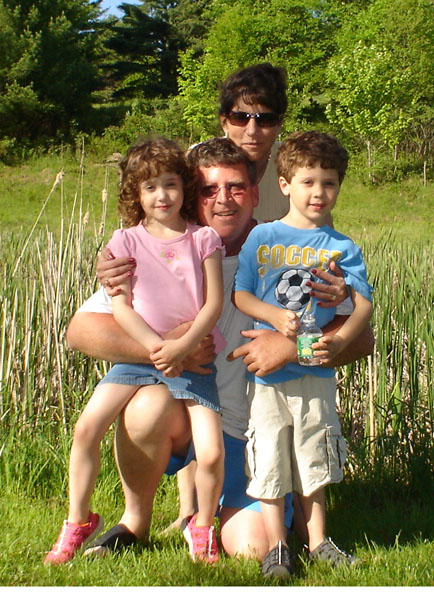 ---
Audrey and Dave visited Alex and Lauren at their new apartment in New York City the weekend of Feb. 16th. We had a very nice time including seeing the show Avenue Q on Broadway and walking across the Brooklyn Bridge at dusk which was cold but a spectacular view!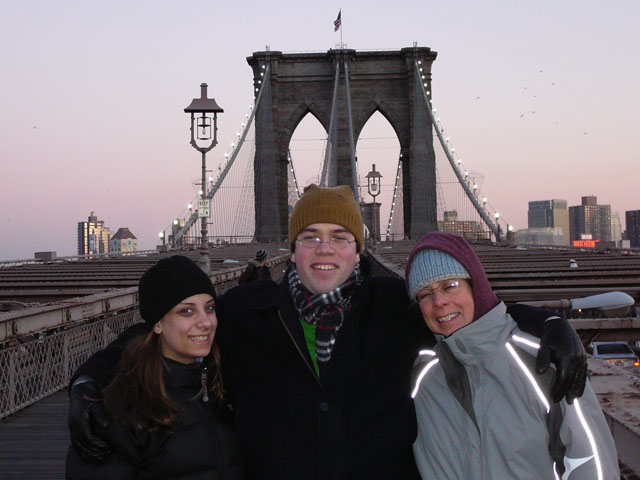 ---
Caitlin was home for a few weeks in December on break from her first year at Dartmouth. As can been seen from the picture on the left, she's still her mom's girl! She is living in a very roomy dorm and seems very happy exploring the wide course offerings available to her.

Alex, with his girlfriend Lauren, has settled into the big city life in Manhattan. After graduation, Alex accepted a job with an IT recruiting firm in mid-town and is now living in an apartment not to far from Central Park. Hard to picture our country-boy son in a suite in New York City but he his enjoying life and doing well in his new career!

Audrey and I are adjusting to life as empty-nesters!