The Harold Parmington Foundation (HPF) was a Fraternity at Dartmouth College from 1972 until 1984.

You are visitor
Recent HPF NEWS
Steve and Stephanie Green hosted another HPF get-together and ski day at Okemo on February 18th. Despite the general lack of snow, the skiing was actually pretty nice! The Green's also provided a wonderful dinner which we all enjoyed. Tom Kent showed up for dinner and regaled us all with some great stories of his adventures in Russia.

Left to right: Dave Halpert, Thad Seymour, Audrey Halpert, Steve & Stephanie Green, Ted and Brenda Moynihan, Katie Seymour
---
From Jeff Reed on Feb. 4, 2012 - Your own roving reporter stumbled across a major conflagration at 15 Webster Avenue tonight. In an apparent attempt to get homeless girls to come to their fraternity, the boys/ dateless homos from Alpha Chi set fire to the sorority next door . The heat generated by the fire has not been seen at that house since Mongo tried to juggle two Carnival dates in 1976 or since TK used Sweet Mary for batting practice in the living room. Fortunately, 5 fire trucks were able to save the house from total immolation and the monument to our many

imagined conquests remains standing.

In actuality, apparently a light bulb fixture shorted and caused lots of smoke and maybe some flames. There might be some water damage from (over) zealous fire fighters. 5 fire trucks did answer the call.

What followed was a pretty funny email exchange between Jeff, Chuck McCann, Dan Sheedy, Ted Moynihan, Gary Mayo and Steve McAllister. I posted this email 'discussion' as a separate page - click here to read.


---
Mark Ditmar just sent me a link to a photo album posted by Chuck Higdon from the recent HPF reunion in Bethesda, Maryland. The reunion was hosted by Claire McLane over Memorial Day week-end 2011.

---
Rich Pender has authored a recent Dartmouth Class of 1979 Newsletter and sent me the section he wrote about HPF members of the class. Click here to take a look.

---
Audrey and I had the great pleasure of attending the Dartmouth 2010 Commencement ceremonies on June 13th where we saw our daughter Caitlin receive her bachelors degree. Even though the weather looked grim to start, the rain and thunderstorms held off and the ceremony was a great success. Kevin Muse, son of Charlie Muse HPF '78, and Chris Green, son of Steve Green HPF '76, also were among this year's graduating class.


---
Audrey and I had an opportunity to go to Leverone Field House on Saturday, Feb. 27th, to meet with Dave & Laurie Wright. Dave & Laurie who came all the way from San Francisco to watch their daughter Ariel, a senior at Brown, compete in the 2010 Indoor Track Heptagonal Meet. It was an exciting race to watch, Ariel did great, taking 2nd place in the Ivies in the 5,000. She followed with a 4th place in the 3,000 on Sunday.

---
Well some of our generation of HPF bro are still making babies! Just received an email from Rich Pender forwarding news that Rich Conn '79 and his wife just welcomed a new baby on Valentines day. Rich Pender was happy to report this news and that some one else will be working to pay college bills even later than he will. Congratulations to Rich and his family.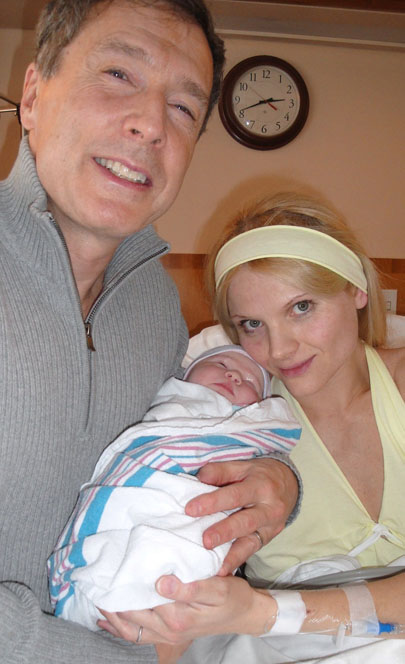 Rich, newborn Natalie Daniella & Julianna Conn
---
I just became aware of some sad news; Jeff Walter's (HPF '81) wife Clara passed away after a tough fight with cancer on Jan. 24, 2010. I'm sure we all wish condolences to Jeff and his family. If you would like, the family
would welcome contributions in Clara's name to the Penn Wissahickon Hospice (In-Patient Facility), c/o 150 Monument Road, Suite 300, Bala Cynwyd, PA 19004, and/or to the Aldersgate Youth Ministry, 2312 Concord Pike, Wilmington, DE

19803.
---
Steve & Stephanie Green hosted a mini-HPF get-together and ski day on Jan. 17, 2010, at their Okemo Mountain condo. Attending were Thad & Katie Seymour along with their daughter Maddie and son Nate, Audrey and I with our daughter Caitlin, Ted & Brenda Moynihan with their son Liam along with the foreign exchange student they are hosting, and Cort & Teri Corsones with their daughter. It was a fun day for all skiing and socializing and we actually managed to avoid any serious injuries in our old age. Stephanie and Steve were wonderful hosts providing a bountiful lunch and dinner.
---
Just before New Years, Bill Cantore sent me an email with a link to some old HPF pictures he recently scanned. I have added them to my collection of albums on the right. Bill also sent me a scan of an old copy of all the words for
Harold's Song
which I thought you all might enjoy; I noticed at the recent Philly reunion how few of us actually remembered all the words!
---
Its a small world! Caitlin was home for her Christmas break from Dartmouth and invited a college classmate she has known for a few years, Kevin, to visit for a few days to ski at Killington. As we were sitting to eat dinner after their first day of skiing, Kevin asked if I had gone to Dartmouth and if so which class. I mentioned that I had graduated in 1977 and he said his dad had also gone to Dartmouth and was in the Class of 1978. It turns out his dad is Charlie Muse, HPF '78! I showed him some old pictures I had from those days and one included a picture of a party we had at the 'mansion' in Norwich which included a picture of both Charlie Muse and Kevin's mom! Neither Caitlin nor Kevin had any idea their dad's knew each other.
---
Dan Sheedy and his gracious wife Denise hosted a fantastic HPF Reunion in Philadelphia last weekend (Oct. 9-11, 2009). Attending were more than 40 bro and wives. Dan arranged for a road trip to downtown Philly the first night which included stops at the Museum of Art where we had a chance to do the Rocky run up the steps, and cheese steak land in South Philly. On Saturday, we split into two group with one touring the Museum of Fine Art and the other touring Valley Forge. Both trips were great and both lucked out in having wonderful and enthusiastic guides. Dan and Denise hosted a dinner on Saturday evening and a brunch on Sunday morning. It was all a lot of fun and it was great to catch up with a lot of old friends! Allan Cunningham set the record for coming the farthest, he actually flew in from Switzerland!
Unfortunately, not everyone was able to attend the whole weekend and so we don't have a complete group picture. Here's a group photo at the Hotel on Friday night: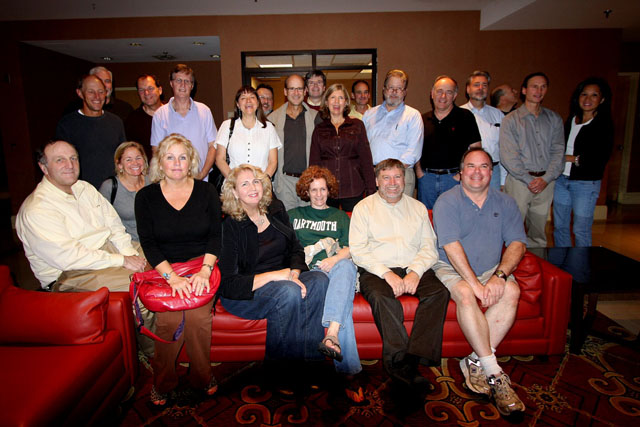 And here's a shot of those who toured Valley Forge: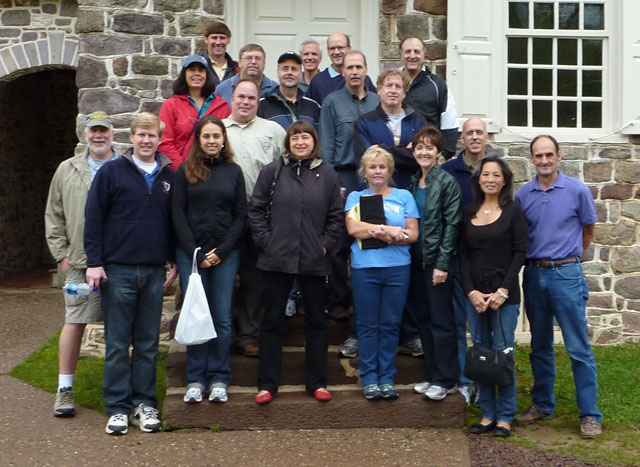 I have a few more
pictures in a PDF slideshow
. I just updated this slideshow with additional pictures sent to me by Stephanie Green, Inge Orendt Younger and Chuck Higdon. If anyone else who attended has some pictures they'd like to publish here, please send them to me at
dave@thehalperts.com
.
HPF Bro attending included:
Class of 1972: Tom Kent, Claire McLane (Bruce's widow)
Class of 1973: Dave Clark and Margie Wagers, Chuck & Lynn Higdon
Class of 1974: Lex & Susan McCusker, Bruce Sanborn, Joe & Inge Younger
Class of 1975: David Hunt, Bud & Claudia Leese, Mark Ditmar, Steve Johnson, Chris Loftus
Class of 1976: Dan & Denise Sheedy, Steve & Stephanie Green, Tom Gwin, Jeff & Beth Reed
Class of 1977: Dave & Audrey Halpert, Steve McAllister, Thad & Katie Seymour
Class of 1978: Bill Bender, Sandy & Gwen Emory, Cort Corsones, Joe Sullivan, Nick Sakhnovsky, Ted Moynihan
Class of 1979: Allan Cunningham, Gary Murphy, Craig Enright, Vince Marriot, Steve Huber
Class of 1980: Bill Cantore
Class of 1984: Peter Smith
Sorry if I missed anyone!
---
Several HPF alums and family gathered outside the Hopkins Center on June 19, 2009 for the dedication of Dartmouth's 9/11 Memorial during the Class of 79 30th Reunion. President James Wright gave a nice speech as one of his last official duties before retiring at the end of the month. Brian Dale's widow Louanne and their children came up from Pennsylvania for the dedication. Phil DiBello brought some extra old HPF caps which were given to the Dale children. President Wright was kind enough to pose for a picture with us which Phil DiBello just sent me.


Back: Ted Moynihan, Dave Halpert, Gary Mayo, Jim Bullion, Brendan Cameron, Steve McAllister
Middle: Louanne Dale, President James Wright, Al Johnson, Phil DiBello
Front: Russell Dale, Rachel Dale, Jacob Dale, Al Johnson's son
Present but missing from picture: Rich Pender
---

Rich Pender forwarded me on May 27th some recent pictures taken of the new Dale Batting Cages at the rebuilt Dartmouth baseball stadium. The batting cages were a gift from Chuck Jarrett, HPF '80, and his wife in memory of Brian Dale.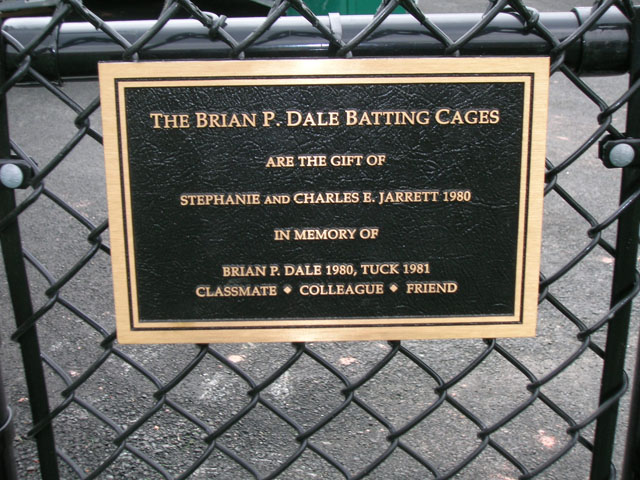 Rich also mentioned that Harold Parmington now exists as an identity on Facebook! Several HPF bro have already signed on as friends of Harold. Rich won't let on who actually owns this site but he does encourage all HPF alumni with their own Facebook pages to also link to Harold Parmington as friends.

---
F. Stimson 'Stump' Harrimon, HPF '75, noticed I was missing a few HPF composites and was kind enough to send me his copy of the 1974 and 1975 composites to scan. I have added them to the HPF composites link in the Photo Albums section to the right. Thanks Stump!

---
Got a letter and a few snapshots in early April from my old Gile room-mate Dave 'Elmo' Wright, HPF '77. It's great to hear Dave's wonderful life philosophy and world view hasn't changed at all! I love it! Sounds like his family is doing well, Dave and wife Laurie's daughter Ariel is now a junior at Brown and their son Perrin is about to deal with the big college decision coming this month as a High School senior.

---
I spoke to Dan Sheedy recently and he wants everyone to know he is organizing a big HPF reunion in Philadelphia for Columbus Day Weekend this year (Oct 10-12, 2009). All HPF classes are invited including spouses and significant others! It's been a while since we've had a big get-together, so let's all plan on being there. You can contact Dan at sheedydan2001@yahoo.com for more information.

HPF ADDRESS DATABASE
I have a partial HPF address database on line. Please send me email at dave@thehalperts.com so I can correct any errors, or make additions of more brothers you may know contact info for.
---
HPF PHOTO ALBUMS
The following links will take you to some HPF related picture albums. The pictures may not show up properly unless you are using Microsoft Internet Explorer.
Rich Pender and Brad Ferris organized a fantastic reunion in the Washington, DC area on Oct. 21-22, 2000. This gathering was attended by more than 50 brothers representing almost every HPF class. Take a look at a Reunion Picture Album compiled from photos contributed by Dave Halpert, Thad Seymour and Mark Winkler.
---
IN MEMORIAM
Brian P. "Hulk" Dale
October 23, 1957 - September 11, 2001
Dartmouth and HPF Class of 1980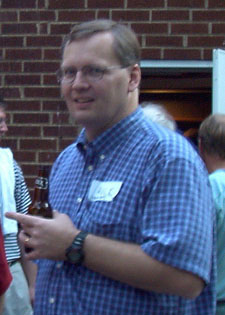 Brian Dale at HPF Millenium Reunion October 22, 2000.
The tragic events associated with the horrifying terrorist attacks on September 11,2001 touched the HPF family. Our friend and brother Brian P. Dale was on American Flight 11, one of the planes the terrorists hijacked and crashed into the World Trade Center.
Brian was a past president of HPF. A member of Phi Beta Kappa, Brian graduated magna cum laude from Dartmouth and also received an MBA from Dartmouth's Amos Tuck School of Business as well as a law degree from the University of Michigan. Brian was a co-founder of Blue Capital Management, a New York City - based investment firm. Brian lead the company's legal and accounting-related activities and oversaw its internal accounting and investor reporting.
Please join me in wishing our deepest condolences to Brian's wife Luanne, his three young children including one year old twins Rachel and Russell and three year old son Jacob as well as Brian's mother Mary, brother Kevin and sister Lauren.
Luanne Baily has recently moved back to Pittsburg, Brian and Luanne's hometown, and can be reached at:
201 Mairfair Drive
Pittsburg, PA 15228
Brian's employer, Blue Capital Management, has established a scholarship fund for Jacob, Russell, and Rachel Dale. Donations can be made to:
The Brian Dale Family Trust
c/o Ropes and Gray
One International Place
Boston, MA 02110
ATTN: Chris Leich